PM IS&A
Intelligence Systems • Analytics
Mission:
Develop and field modernized intelligence systems through an exceptional workforce of dedicated professionals and integrate best value solutions for the battlefield of tomorrow.
Vision:
Provide revolutionary solutions to enable Commander's situational understanding in the future complex environment. 
Description:
Project Manager for Intelligence Systems & Analytics (IS&A) is responsible for the Army's next generation ground station, Tactical Intelligence Targeting Access Node (TITAN), and the new Intelligence Applications program, along with the current Distributed Common Ground System – Army (DCGS-A) and Joint Tactical Terminal (JTT) programs.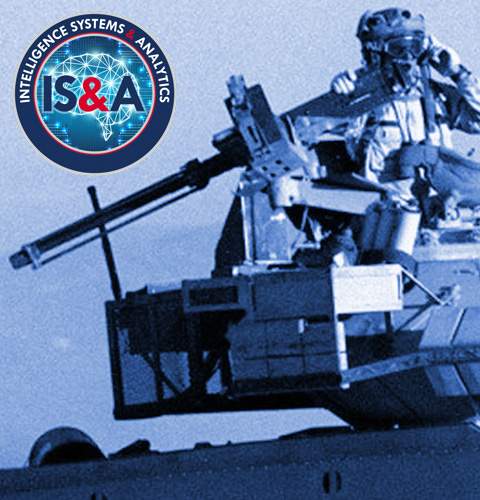 Intelligence Fusion Server (IFS)
Provide a suite of core Processing, Exploitation and Dissemination (PED) Applications for Intelligence Analysis and storage for tactical and organizational formations with the capability to maintain multi-intelligence level databases, threat situational awareness and Standard Shareable Geospatial Foundation services.
The IFS is a transit-cased tactical computing platform which delivers Processing, Exploitation and Dissemination services and storage to support multi-domain intelligence, geospatial, civil affairs, space operations and special operations in a full spectrum environment.  The IFS provides services to users at maneuver, maneuver support and sustainment organizations at the Brigade, Divisions, Corps and Echelon Above Corps levels on multiple security networks.
Intelligence Fusion Server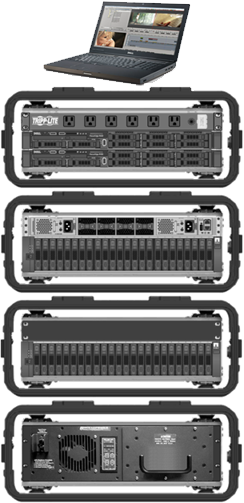 Geospatial Intelligence Workstation (GWS)
Provides Geospatial Engineers and Imagery analysts within tactical and operational Army units the ability to process, view, generate, analyze, exploit, manage and disseminate Geospatial and Imagery information.
The GWS is the PM Intel Systems & Analytics workstation for geospatial and imagery intelligence processing, exploitation and dissemination. It consists of multiple ruggedized commercial workstations with extensive computing and storage capacities to enable Geospatial and Imagery operations across the supported unit, ranging from Brigade to Echelons above Corps. The GWS also includes wide-format plotters and scanners to enable map production for the supported unit.
Portable Multi-Function Workstation (P-MFWS)
The P-MFWS provides visualization and dissemination of Intelligence Products at all echelons from Battalion to Echelons-Above-Corps (EAC) and allows the soldier to collaborate, synchronize and integrate organic and non-organic collection elements with operations, and to evaluate technical data and information on behalf of a commander.
The P-MFWS laptop provides Multi-INT analysis and exploitation tools, and Visualization and Dissemination of Intelligence Products at all Echelons. The P-MFWS is the conduit to the commander for the All-Source correlated (Fused) intelligence picture provided by the Intelligence Processing Centers. The P-MFWS is utilized by any MI MOS general purpose user to access any DCGS-A capability.
Portable-Multifunction Workstation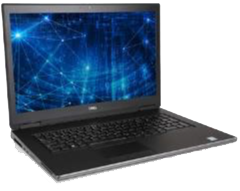 Cross Domain Server Set (CDSS)
The CDSS allows analysts to transfer data, information and products across networks operating at different security levels.
The AN/GYK-78 CDSS is a computer-based intelligence systems used in three different configurations (transit-case, vehicle mounted, and rack mounted). All three configurations of the CDSS support Army Commanders and Intelligence Analysts across the full range of military operations by transferring information between multiple different networks operating at different classification levels and/or release levels.
Cross-Domain Enterprise All-source User Repository (CENTAUR)
The CENTAUR provides multi-directional, Distributed Common Ground System (DCGS) Integration Backbone (DIB)-enabled cross-domain search and retrieval and supports direct transfer of structured and unstructured data.  It also supports streaming information within U.S. security domains and between U.S. and multi-national systems.
CENTAUR is the only cross-domain solution that works directly with the DIB providing two-way, dynamic content discovery and retrieval with integrated coalition sharing capability. It also provides an Enterprise capability for machine-to-machine, cross-domain information sharing between different security domains, as well as repeatable process for automated cross-domain data sharing.
Intel Processing Center version 2 (IPCv2)
The IPCv2 is a tactically deployable, self-contained, fully integrated system capable of delivering a full range of intelligence Processing, Exploitation and Dissemination capabilities to expeditionary Army units.
The IPCv2 provides automated support capabilities in an expeditionary configuration to assist in the performance of the following Intelligence functions:
Information Processing and Dissemination

All Source Processing, Exploitation and Dissemination

Single-Source, Multi-INT Processing, Exploitation and Dissemination

Situation Awareness/Development

Target Support/Development

Interface and Interoperability with Army and Joint systems
Operational Intelligence Ground Station (OGS)
OGS provides deployable Ground Station capabilities for operational Army units to receive, process, exploit and disseminate intelligence from Army, Joint and National sensors.
The OGS, contained in an S-280 shelter, provides services on multiple networks primarily focused on the receipt, processing, exploitation and dissemination of Geospatial and Signals Intelligence. This includes data links and capabilities for the specific processing and interface required for Army Aerial ISR Platforms, along with numerous other Army and Joint platforms. The OGS includes tactical Common Data Links for receiving data via Line-of-Sight from aerial layer assets. OGS are deployed to Army Corps and Aerial Exploitation Battalions. At the Aerial Exploitation Battalions, the OGS is fielded with a Tactical SATCOM System to provide SATCOM connectivity back to the designated Processing, Exploitation and Dissemination (PED) Service Centers.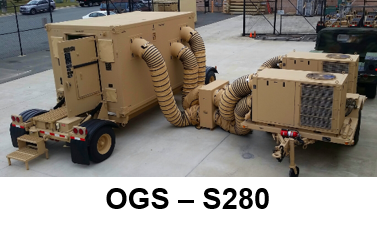 Tactical Intelligence Ground Station (TGS)
The TGS is the expeditionary Geospatial Intelligence (GEOINT) receipt, processing exploitation and dissemination solution for Brigade Combat Teams (BCTs), Expeditionary MI Brigades (E-MIBs), Divisions (DIV) and Corps. 
The TGS deploys as a combat multiplier and enables the BCT S2, DIV G2 or Corps G2 to receive, correlate, process, store and display actionable GEOINT Data in support of Indications and Warnings at the tactical level as well as Processing, Exploitation and Dissemination execution to answer the maneuver Commander's priority intelligence requirements and support their decision making process in the conduct of operations.

Tactical Intelligence Targeting Access Node (TITAN)
TITAN is the next generation expeditionary, maneuverable intelligence ground station to support Multi-Domain Operations (MDO)/ Joint All-Domain Operations (JADO) and Long Range Precision Fires.
TITAN is a scalable and expeditionary intelligence ground station that supports commanders across the entire MDO battlefield framework with capabilities tailored by echelon. TITAN leverages Space and High Altitude, Aerial, and Terrestrial layer sensors to provide targetable data directly to fires networks as well as multi-discipline intelligence support to targeting and SA/SU in support of mission command.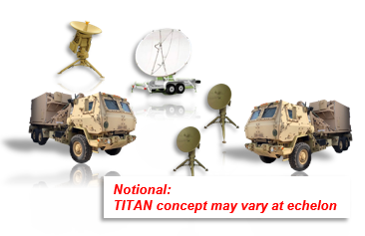 Joint Tactical Terminal (JTT)
Provides Warfighter access to tactical intelligence information via the Joint Integrated Broadcast Service (IBS) enterprise, by securely disseminating critical battlespace awareness data globally in near real-time (NRT) to commanders, planners and Warfighters.
Joint Tactical Terminal variants (JTT-Senior, JTT-IBS and JTT- Next Generation) are the primary radio terminal component of the IBS.  The JTT is a SATCOM terminal that satisfies radio communications requirements for the IBS program. JTT provides various Joint Intel producers, consumers and weapon systems global access to IBS message priorities to include Sensor-to-Sensor and Sensor-to-Shooter data exchange, Indications & Warnings, ISR common picture, Targeting, Friendly Forces Tracking and Combat Search and Rescue data.

Capability Drop 1 (CD-1)
CD-1 is a tactical, expeditionary toolset at the battalion echelon, addressing soldier's requirements to build All Source intelligence products with streamlined workflows greatly reducing the burden of soldier training.
CD-1 focuses on battalion-level solutions that enhance usability and reduce complexity for the Battalion S-2 Soldiers.  CD-1 consists of a hardware and software solution for the All-Source Analyst to operate and maintain at the battalion echelon.  Hardware solutions include ruggedized laptops and a displacement of the current Intelligence Fusion Server at the battalion echelon. The software improves Disconnected, Interrupted and Limited (DIL) operations, ease of use and provides Intelligence Preparation of the Battlefield (IPB) and Processing, Exploitation, and Dissemination (PED) tools.
Capability Drop 2 (CD-2)
CD-2 will modernize the core technology fielded at the Army's Fixed Sites with a modern Enterprise Data Warehousing and Analytics solution providing advanced analytic capability to Army units at all echelons.
CD-2 will provide a fully modernized solution that collapses all data from existing data silos stored in diverse data sets and formats. The system will provide automated content extraction to pinpoint important information of intelligence value within a vast amount of data and will provide automated correlation across intelligence functions and disparate data sets and formats ultimately linking intel together for the Common Intelligence Picture. CD-2 will provide COOP for all networks and be fault-tolerant with easy failover to backup systems. The SW will reduce maintenance burden & automate functions by providing holistic monitoring on system health, data exchanges & network.
Intel Apps (IA)
Intel Apps provides software capability in support of the Multi-Domain Intelligence (MDI) Framework, Multi-Domain Operations (MDO) and Joint All-Domain Operations (JADO), delivering modernized Intelligence analysis and exploitation capabilities at all echelons.
Intel Apps is a software-based Information System with capability to enable intelligence professionals to work through the intelligence cycle. The initial set of Intel Apps includes All Source, Intelligence Support to Targeting, Information Collection, Weather Operational Effects, with additional applications to follow to complete the modernization. The Intel Apps program will leverages the Command Post Computing Environment (CPCE) architecture and infrastructure to rapidly and seamlessly 'plug-in' Intelligence Applications to meet the warfighter's needs. 
Intelligence Processing Center – Version 1 (IPCv1)
IPCv1 supports each of the US Army Intelligence and Security Command (INSCOM) Military Intelligence Brigades (MIB) and the United States Army Special Operations Command (USASOC), providing critical strategic and theater-level intelligence to their assigned regional combatant commands and Army Service Combatant Commands (ASCC). 
The IPCv1 provides a suite of core Processing, Exploitation and Dissemination (PED) applications, processing and storage for intelligence analysis, and provides the infrastructure and networking to support search and retrieval capabilities along with data management.  There is a full suite of IPCv1 hardware and software for each security domain required by mission sets.