Link to original article:
https://www.army.mil/article/266826
By Dr. Christina Bates, PM TS Strategic PlansMay 19, 2023
On May 11 at the Fort Belvoir Officers Club, Col. Loyd Beal III culminated his tenure as Project Manager, Terrestrial Sensors (PM TS) in passing the charter to his successor, Lareina Adams. Mark Kitz, Program Executive Officer, Intelligence, Electronic Warfare, and Sensors hosted the event. With more than 400 personnel dispersed across many areas of responsibility, PM TS procures, fields, and supports numerous state-of-the-art ground sensor systems globally, including within the United States at our southwestern border and in the National Capital Region. These sensors play an integral role along the sensor-to-shooter continuum, providing the necessary data to understand the battlefield and to inform rapid decision-making by commanders on the ground. When describing PM TS, Kitz emphasized that from its earliest days, PM TS "has been the foundational PM within PEO IEW&S, reaching several decades back to the first night vision goggles".
During Beal's tenure, the organization faced simultaneous unprecedented challenges – – the COVID pandemic, coupled with the drawdown from Afghanistan; the merger of two organizations (Product Manager Counter Explosive Hazard with Product Manager Ground Sensors and PM TS with Project Manager Biometrics); and shrinking budgets. Despite these challenges, Beal's steady demeanor, clear, incisive, and quick thinking, and absolute dedication to duty enabled PM TS to continue to successfully execute the mission. "I had complete trust in Loyd. He was the right leader at the right time for PM TS," Kitz shared.
Of his time at PM TS, Beal shared "I was able to be successful because I had a phenomenal team." Beal led PM TS's rapid response to the Ukraine effort and force protection support for EUCOM. He also led the PM TS team to complete three Milestone C events for its flagship programs – – the Ground Based Operations Surveillance System – Expeditionary (GBOSS(E), the Security Surveillance System (SSS), and the Third Generation Forward Looking Infrared (3GEN FLIR.) "These systems are at the cutting-edge and enable us to pace the threat," Kitz said. Each of these systems enable robust execution of surveillance, reconnaissance, and target acquisition missions. These programmatic achievements will result in enduring, key capabilities that will serve the Army for many years to come.
Beal also discussed leading the merger of not one, but two organizations during his tenure. Product Manager Counter Explosive Hazard (PM CEH) which manages the Husky Mounted Detection System (a major route clearance capability) merged into Product Manager Ground Sensors (PM GS) where the team continues to support numerous fielded HMDS globally. Beal also led the merger of Project Manager Biometrics (PM BIO), located at Fort Belvoir, with PM TS. "The TS-BIO merger couldn't have gone any smoother due in no small part to the whole BIO team. They worked with us as partners to make it a seamless transition and to maintain strong morale," Beal said. PM BIO will continue to deliver state-of-the-art biometric capabilities across the DoD.
Beal's penultimate accomplishment was securing a new start, ground-breaking program – – the Future Advanced Long-range Common Optical/Netted Fires Sensor or "FALCONS." FALCONS bridges PM TS to the dawn of autonomous sensors. It will leverage machine learning and artificial intelligence to increase the speed and accuracy with which an operator detects, recognizes, and identifies threats. FALCONS will be a truly paradigm-shifting capability that will enable the Army to outpace the threat for many years to come.
Adams will now take the helm at PM TS. She is no stranger to organization, having previously led the HMDS program and contributing greatly to its overwhelming success. Today, there are more than 600 deployed HMDS globally, thanks in no small part to Ms. Adams' outstanding leadership. Adams described her transition to PM TS as a "coming home" of sorts. "This is a great organization and I'm thrilled to be a part of it once more," Adams said.
Adams began her civilian career as an Army intern computer engineer at Fort Huachuca. Over the years, she has served in multiple positions, with her most recent being Senior Enterprise Talent Management for HQDA DCS, G6. In this role, she supported the Network Capability Portfolio Review for Under Secretary of the Army and Vice Chief of Staff for the Army. Adams also served as Secretariat for the Army Unified Network Council. The Council is the principal governance forum for the Army's information network, modernization efforts, and the information technology requirements to support the Army Unified Network Plan.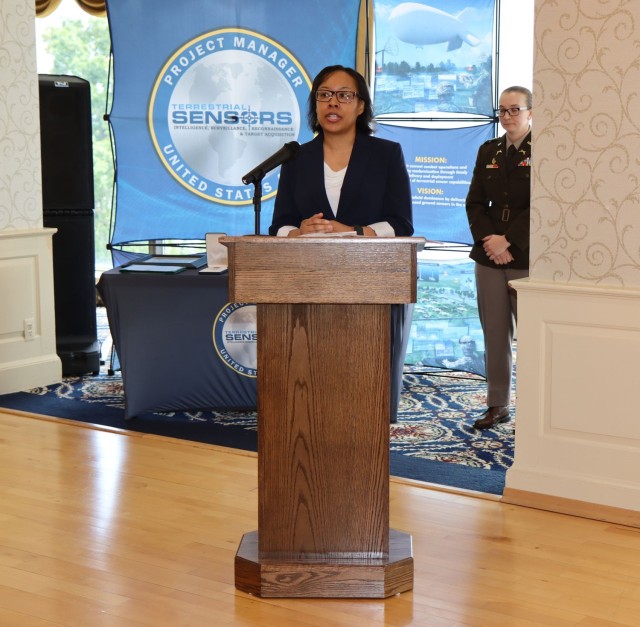 Lareina Adams, Project Manager for Terrestrial Sensors (PM TS), addresses the PM TS organization during a recent change of charter ceremony. (Photo Credit: Brian Cooper)
Mark Kitz, Program Executive Officer for Intelligence, Electronic Warfare & Sensors, presents the Legion of Merit to Col. Loyd Beal III for his accomplishments as the Project Manager for Terrestrial Sensors. (Photo Credit: Brian Cooper)