PD TENCAP
PD Tactical Exploitation of National Capabilities
Mission:
Enable the Army to rapidly influence and enable National capabilities and architectures. Conducts advanced development and rapid prototyping to enhance, exploit, and modernize Army capabilities and CONOPS to pace the threat.
Vision:
The Army – through seamless integration with the Intelligence Community – outpaces the threat and wins in a multi-domain, complex environment.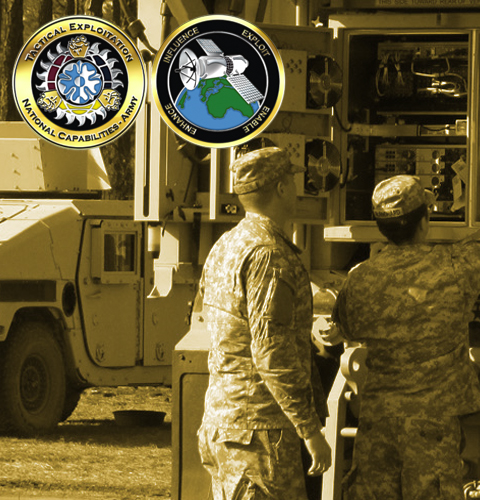 Description
Identify National Agency and other Service-developed TENCAP-related technologies and capabilities with potential to satisfy Operational Needs Statements, Joint Operational and Emergent Needs Statements, Joint Capabilities Integration and Development System requirements and documented gaps.
When directed, field and sustain quick reaction capabilities or niche systems.
Identify candidate prototypes suitable for integration into Programs of Record (PoRs) or retention as niche subsystems.
Maintain acquisition management integrity, inform, and coordinate with acquisition organizations to facilitate technology transfer, transition and/or insertion of TENCAP advanced developments to augment or establish material solutions to satisfy Army validated requirements.
Provide technical expertise and support to the Army, that includes: enabling new concepts; influencing operational architectures; integrating new and emerging TENCAP technologies into the Army force structure; facilitating identification and visibility of Army needs into Joint programs and systems; developing coherent enterprise solutions for identified ISR systems, architectures, and programs; and serving as technical expert and primary advisor for TENCAP systems and capabilities for Futures and Concepts Division, Army Futures Command (AFC).
Lead the Army's advanced development, rapid prototyping, and integration of TENCAP capabilities. In coordination with the National Agencies: identify, sponsor, design, demonstrate, experiment, rapidly develop, test, and transition TENCAP systems, components, and capabilities to provide IC partners and selected theater and tactical ISR sensor data and capabilities to the Army's current and future force.
Highlighted QRCs
JEONS ST-0008
ONS 18-22854/Remote Ground Terminal (RGT) Pilot
ONS 17-21960/ADV Pilot
Highlighted Projects
ISR TF Space Layer Lead for Army G2 Study

TITAN Prototype
RGT Modernization with CFT LEO
Advanced Miniaturized Data Acquisition System (AMDAS) Dissemination Vehicle (ADV) and ADV Modernization Efforts

TENCAP Radio Frequency Exploitation (TRFE) Software
AMDAS-Next Studies
GEOINT Modernization for the Army